Custom Made Carports & Garages Sydney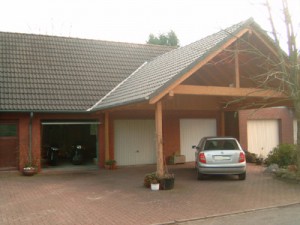 Most Sydney homes already have a Carport or Garage but in many cases as the family grows so does the need for car accommodation.
As licensed builders and carpenters we are able to design and build a Carport / Garage which will blend in with your home and provide a safe haven for your car, boat or caravan.
There are no "standard" shapes or sizes for Carports and as such we design each Carport / Garage individually. This ensures that ALL local council regulations can be catered for as well as providing adequate space for your needs. Be it a single, double or triple carport / garage we are only too happy to meet you onsite for an obligation free measure and quote. If your carport is going to form part of your outdoor recreation area / Pergola then we can show you how the overall structure can be build to blend in with your home and its surroundings.
Our Carports are specifically build to match and complement the existing features of your home. Materials, paint, styling etc is carefully selected to minimise and at best totally eliminate any potential clash of colour and/or style.
Call us for a free quote on (0418) 441 701 or use our online enquiry form.